Cappadocia Butterfly Balloons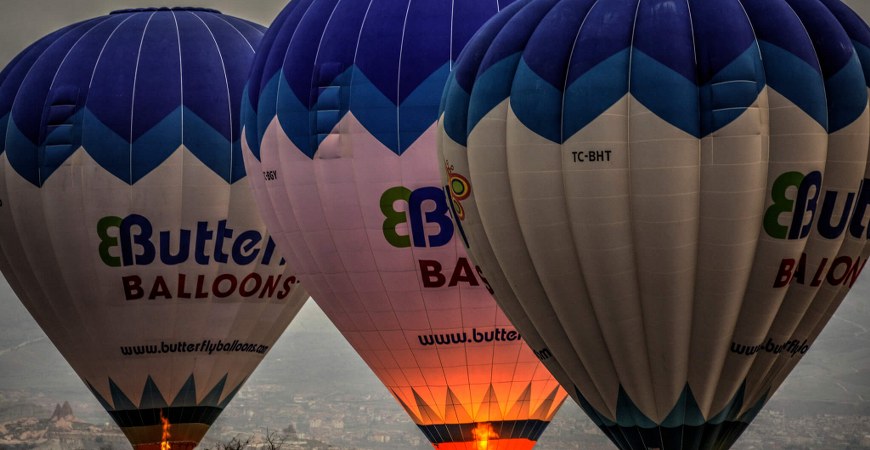 Cappadocia Butterfly Balloons
Butterfly Balloons is just what we always wanted!  Our ideal boutique enterprise evolving from twenty-five years of fantabulous skills and combined piloting expertise in the geographic region and around the world. Mustafa Turgut, beginning Director, and Mike Green, Chief Pilot have made flying here a cottage industry; from the minibus driver who collects you, the kitchen guy who filters your morning coffee and chills the champagne, to the crew that chase your balloon…. all are locals, family, and friends who love Cappadocia with a passion and wish to share it with you. The 'Butterfly Way' of flying in Cappadocia has jolted some different companies to re-assess their flight procedures to attempt for greater client satisfaction and increased safety systems. we are proud to be their inspiration. Our founding Director Mustafa Turgut sadly passed away in may 2014. Mustafa was a forward thinking and inspirational young man who had an exciting vision for welcome, travel and international partnerships. He based Butterfly Balloons on a love for that vision and a real desire to bring together people, regardless of race, faith or culture, to share one of the best wonders of our world – Cappadocia. The Butterfly family continues to follow Mustafa's vision together with his spirit, energy, laughter and the big sense of journey. join us and create some memorable memories! each year we really do look forward to creating new friends and sharing the breath-taking landscape of Cappadocia from the air.
Why Butterfly Balloons?
We care concerning personal space and comfort; flying below full capability in our baskets, we take a maximum of 10, 12, or 16 guests. All our equipment is new and tailored for us at Cameron Balloons within the UK and Ultramagic in Spain; Butterfly Balloons don't fly second user or sponsored balloons. Each day we elect the take-off site dependant on the wind direction to ensure the best and most enjoyable flight path for us all. We fly once a day; around sunrise that offers the foremost favorable weather. We guarantee minimums of 1 hour + of flying time for the Butterfly Flight and one and a half hours + for the Beyond Flight. we don't land early unless your pilot believes there to be deterioration within the weather.
Butterfly Balloon Flights
We offer two types of balloon flights; Butterfly Flight & Butterfly Beyond. The main differences are the duration of the flights and the number of people in the basket. We do not operate the Beyond Flight from 18th Oct to 30st Apr due to unsuitable weather conditions.
Butterfly Flight
Flight Duration: Minimum 1 hour
Number of People: 12 to 16 people
Ground Transportation: Included with private minibusses
Insurance: 30+ Million Euro
Breakfast: Included before the flight
Landing Party: After the flight with champagne
Flight Certificate: Included
Butterfly Beyond Flight
Flight Duration: Minimum 1,5 hour
Number of People: 6 to 12 people
Ground Transportation: Included with private minibuses
Insurance: 30+ Million Euro
Breakfast: Included before the flight
Landing Party: After the flight with champagne
Flight Certificate: Included
Availability: In stockOut of stock

Availability: In stockOut of stock