Cappadocia Deluxe Balloons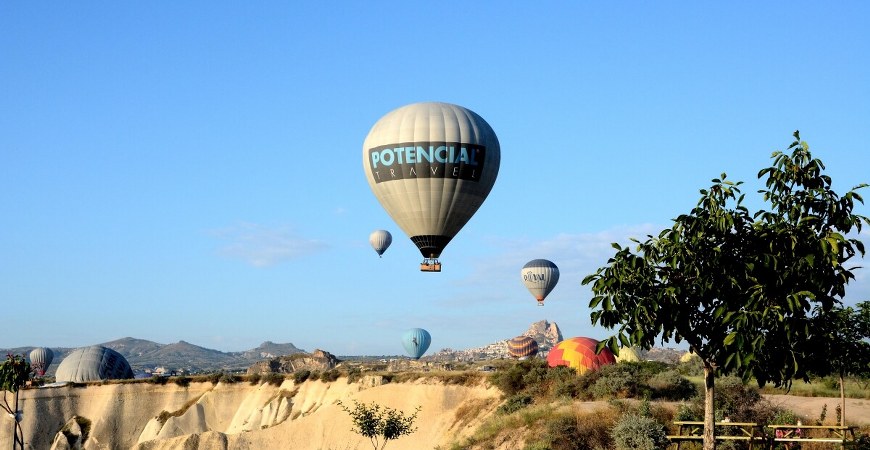 Deluxe Balloons flights are the combination of high quality and experience. In each of our balloon flight types we only use small baskets because we know that the basket gets bigger, the less quality and satisfaction we will have.
Early in the morning before sunrise, we pick you up from your hotel and bring you our breakfast hall in Goreme town. While you are having full open buffet breakfast (27 kinds) before the flight, our experienced pilots check the weather conditions in order to decide the best take off point up to the wind direction. We don't take off the same place every day like most of the other companies. After the take of the point has chosen it is time to go to the hot air balloons now with our Deluxe vehicles.
After landing, there will be champagne toast as a tradition. It is an old tradition which comes from 1783. Montgolfier brothers who are inventors of the hot air balloon did the first flight on the 19th of September 1783, with the first living beings in a basket attached to the balloon: a sheep called Montauciel ("Climb-to-the-sky"), a duck and a rooster. The sheep was believed to have a reasonable approximation of human physiology. The duck was expected to be unharmed by being lifted aloft. It was included as a control for effects created by the aircraft rather than the altitude. The rooster was included as a further control as it was a bird that did not fly at high altitudes. This demonstration was performed before a crowd at the royal palace in Versailles, before King Louis XVI of France and Queen Marie Antoinette. The flight lasted approximately eight minutes, covered two miles (3 km), and obtained an altitude of about 1,500 feet (460 m). The craft landed safely after flying. Then as normal two French, they open a bottle of champagne and it becomes a tradition.
Non alcoholic beverages are also avaliable.
Availability: In stockOut of stock

Availability: In stockOut of stock

Availability: In stockOut of stock