Cappadocia Anatolian Balloons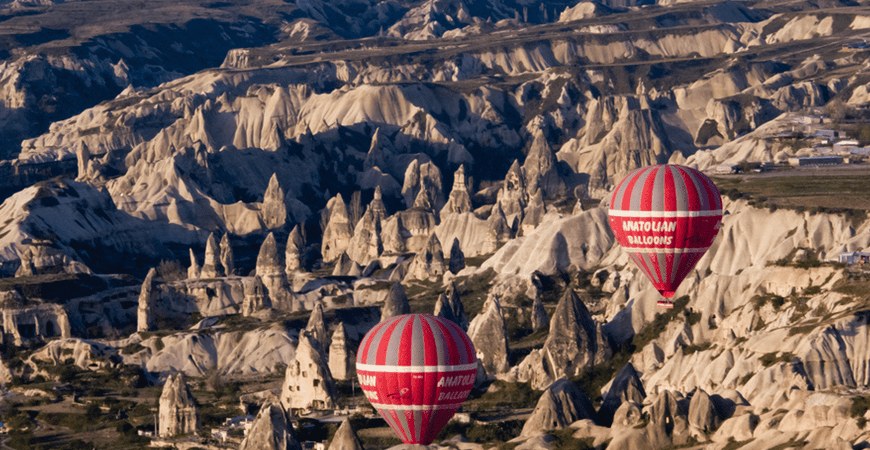 Anatolian Balloons is a sub-company of Uluer group and is an absolutely authorized operator and approved by the Turkish Civil Aviation Authority. The company name is Uluer Havacilik Turizm ve Tic. Ltd. Sti and Business registration number is TR-B-006. we own and operate over twelve balloons, every carrying our company design and selected entirely for traveler carrying use. We have the capability to carry 222 passengers at the identical time, that makes us the biggest company of our kind in the world. To deserve and keep this title, we constantly review all of our procedures and training.  Anatolian Balloons has been awarded ISO 9001-2008 Quality Certificate, and this is the 1. time happens during this sector.
Insurance
We are totally insured by Anadolu Sigorta (Insurance), and carry a maximum combined insurance limit of between €2.5 and €8 million, depending on the size and capacity of the balloon with the terms of International Civil Aviation Organization.
Our Team
Our pilots, ground employees, and office staff are totally qualified and extremely experienced, and all they are from Turkey. All have many years of experience. Our slogan is 'Fly with Finesse'
Balloon Flights
'You have never experienced true magic till you've flown in a hot air balloon over Cappadocia'
General information
The climate in Cappadocia is phenomenal for flying balloons, due to its extraordinarily calm and foreseeable nature. Flights generally take place in the early morning (because the weather is additional stable), and therefore the average distance we cover, in accordance with the wind speed and direction, is anyplace from 2 to fifteen miles. the height at that we fly will vary from tree top level – wherever we enjoy contour flying at low level amongst the 'Fairy Chimneys' within the canyons and valleys (for that the weather in Cappadocia is unambiguously suited), to several thousand feet up: the perfect vantage point to observe the majesty of Cappadocia.
What you should know
In summer and spring, it's no colder within the balloon than it's on the ground, and generally, you ought to wear sensible shoes and dress well, within the knowledge that it'll get warmer because the morning progresses. we collect you from your hotel around one hour before sunrise. Transport to and from your hotel is provided in our luxury company vehicles. Tea, coffee, and biscuits are provided at the launch site before the flight. Your pilot will give you a security briefing before taking- off and tell you everything you need to know for a secure and enjoyable flight. once landing, we celebrate stylish with a traditional glass of Champagne, and your pilot hands out your customized flight certificate. you ought to allow three to four hours from begin to end. we aim to have you back at your hotel in time to join any morning sightseeing you will have organized. Flights are dependent on weather condition conditions.
Availability: In stockOut of stock