Cappadocia Maccan Balloons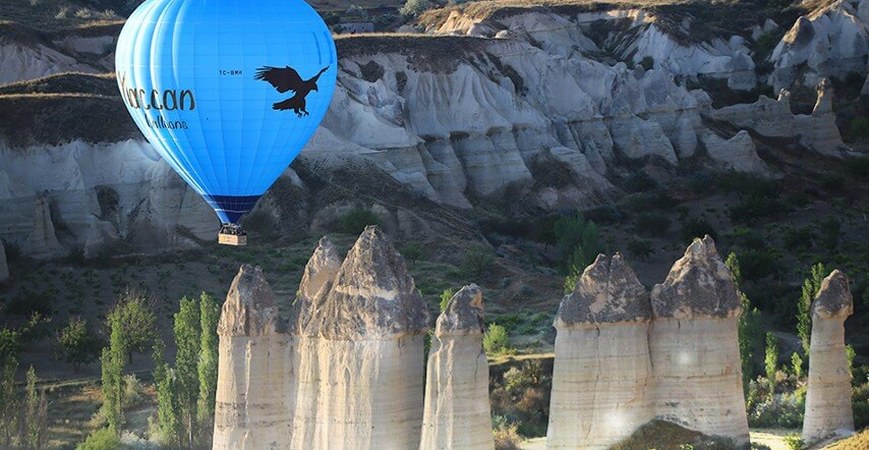 Maccan Balloons invite you to an unforgettable experience over the magical landscape of Cappadocia.
As a leading Balloon company in the Cappadocia region, we offer you not only the best quality and service but also the most secure balloon flight.
Our hot air balloons have been supplied from Lindstrand Balloons – UK, that received the highest available approval rating from the British CAA and the American FAA and EASA for the manufacture of lighter than air craft.
Our pilots are fully experienced to turn your hot air balloon trip into a happy, fascinating memory of a lifetime. While flying with our pilots, you will surely feel safe and enjoy the smiling face of the new day.
Our cooperation with Allianz Insurance, a world famous insurance company, secures to avoid any potential risks and brings extra comfort and safety to our clients.
Before the hot air balloon tour you will enjoy your rich breakfast at an authentic atmosphere at our facility and, when you land from the hot air balloon, we will be offering you local sparkling wine from the centuries old rock-carved wineries of Cappadocia.
Maccan Ballon company is proud of supplying our valuable guests with "high-quality service, safe and comfortable flights.
For us, you are special, you are important, and therefore our main goal has always been "full customer satisfaction". So, come and join us in Cappadocia, welcome to Maccan Balloons!
Maccan Balloons is serving its valuable clients as the leading balloon company in the area, having the newest balloons ensuring highest security and technical properties and the oldest, most experienced pilots.
Maccan Balloons clients enjoy a most professional hot air balloon tour experience which they will remember with pleasure for many years.
Availability: In stockOut of stock

Availability: In stockOut of stock