Cappadocia Urgup Balloons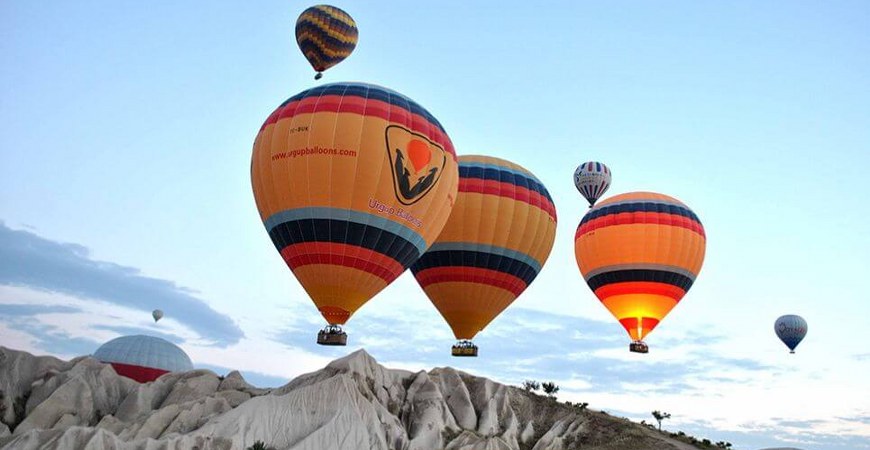 Founded in 2008, Urgup Balloon has become one of the leading hot air balloon companies in the Cappadocia, increasing its service quality and operational expertise since its inception.
It provides hot air balloon flight services to its guests in Standard, Comfort, Deluxe and Special Flight categories. Urgup Balloons always keeps job security at the front. It provides perfect service with its experienced and dynamic team.
The Urgup Balloon, which carries out operations with 7 hot air balloons imported from Lindstrand and Cameron Balloon companies, which are among the best balloon producers in the world, has a daily capacity of 136 passengers.
ISO 9001: 2008 Quality Management System and OHS 18001: 2007 Occupational Health and Safety. All guests are insured by contracted Eureko Sigorta. Periodic checks of hot air balloons are held regularly by contracted maintenance specialists affiliated to the General Directorate of Civil Aviation on a regular basis.
Having been awarded excellence certificate by tripadvisor, Urgup Balloons invites you to an unforgettable balloon experience in Cappadocia region.
Why Us
Business Security: Our first priority for our guests to make a safe balloon flight. That's why, we are constantly training our team and regularly maintaining the periodic maintenance of our hot air balloons.
Experienced Pilots: We provide services to you with the most experienced pilot team in the Cappadocia region to ensure that your guests have an unforgettable and memorable flight. A combination of professionalism and friendly service.
Effective Operation: From the beginning to the end of your hot air balloon ride organization, the operation team will provide an efficient and dynamic service at every stage. You can reach us by phone or by email always.
Flight Variety: Depending on the balloon basket capacity and flight duration; Standard, Comfort, Delux flights and Private Flight. Also, we can organize your special day's event, team building facilities in the balloon.
Guest Satisfaction: Every effort we make is to provide the best service to our guests. We always want to keep client satisfaction at the top level by considering the quality and price balance.
Innovative Management: By pursuing technological developments as Urgup Balloons, we provide innovations that facilitate the bookings of our modern sales and marketing managers techniques for individual, agents, and operators.
Strong Fleet: Urgup Balloons, which has the most dynamic fleet of the Cappadocia, can serve 136 passengers daily with 7 balloons in 365 days.
Availability: In stockOut of stock

Availability: In stockOut of stock

Availability: In stockOut of stock