Cappadocia Rainbow Balloons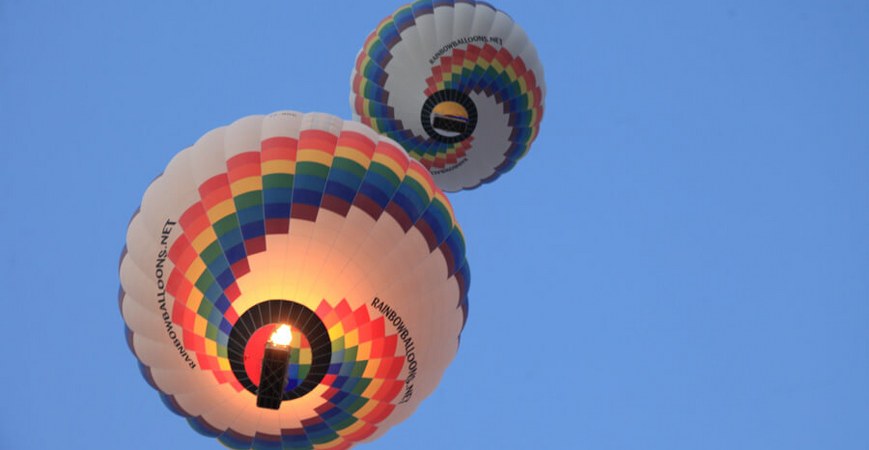 Rainbow Balloons has all the necessary training and expertise to make your balloon flight an experience you'll want to repeat many times in Cappadocia. Join to Rainbow Balloons and explore the sensation of real free-flying by hot air balloon, appreciate nature of Cappadocia from a different perspective.
Ready to take your dreams into reality? Come to the enchanting Cappadocia and ride the one of hot air balloon with Rainbow Balloons. Make a perfect balloon flight with our experienced and professional pilots. The team do their with work with love.
Transfer From Hotel/Hostel:
Rainbow balloons staff will come and pick you up from your hotel that was previously arranged and transfer to our flight center. You are going to begin your adventure just about sixty minutes before sunrise at our meeting spot where we will check you in and get you warmed up with coffee and tea from our favorite local roaster at our flight centre.
Take Off Site:
While your breakfast and a little before sunrise the Pilots check on the weather and change take-off site every day according to wind speeds and direction so that you will see the most charming valleys and fairy chimneys in Cappadocia. The hot air balloon can only go where the wind takes it and this makes each balloon flight an adventure.
Inflating The Balloons And Safety Briefing:
You will be able to watch our pilots and crew inflating the hot air balloons and preparing for take-off. When you are comfortably in the basket, our pilot will give a full balloon flight safety briefing, explaining the landing procedures. Weather is normally very calm in this region but we always prepare passengers for safe landing positions.
Up, Up And Away:
Cappadocia region has one of the most famous and photographed landscapes in the world. Wind and water have eroded the soft volcanic rock of the region into the fantastic valleys, formations, and columns of stone known as 'fairy chimneys'. From the air, the view is matchless, revealing itself as your hot air balloon ascends to up to approximately 2000. After approximately one hour our pilot will determine a suitable landing site one with easy access for the crew and your minibus. The pilot will remind you of the landing procedure and then bring the balloon back down to earth, gently.
Traditional Post Flight Ceremony:
Traditional Post Flight Ceremony with Local Champagne Cocktail and Treats
Availability: In stockOut of stock

Availability: In stockOut of stock

Availability: In stockOut of stock