Cappadocia Royal Balloons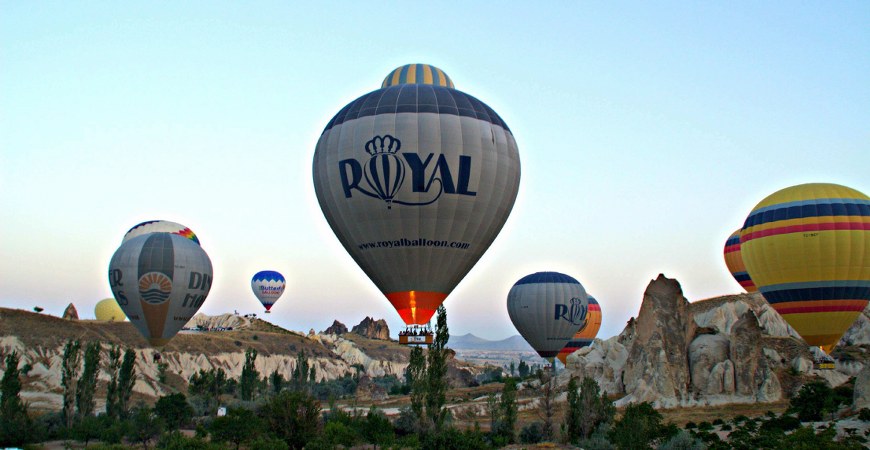 Royal Balloon Cappadocia is an ISO 9001 Certified Ballooning Company which operates Luxury & High-Quality Hot Air Balloon Flights in Cappadocia region which separates us from the other Balloon companies. We are not a "mass" balloon company with a large amount of balloons. We operate with a minimum number of hot air balloons to provide our clients more personalized, comfortable and royal class flight Service.
What Separates Us From the Other Companies?
– We operate with a minimum amount of balloons, build by the most prestigious balloon producer in the World: Lindstrand (made in the United Kingdom). These hot air balloons are the only new generation hyperlife silver coated balloons (assuring highest security due to the material used) which operate in Cappadocia region.
– Our Pilots are one of the best known, high reputation and experienced balloon pilots in Cappadocia region.
– All our guests are insured by Eureko Insurance with the highest rate of policy among all the companies in Cappadocia region.
– Full open buffet breakfast in our HQ's. We are the only balloon company to serve open buffet breakfast in Cappadocia region.
– We have memberships in ASTA (American Society of Travel Agents – We are the only Balloon Company from Turkey), BFA (Balloon Federation of America – We are the only Balloon Company in Turkey which is accepted as Corporate Member) and BBAC (British Balloon and Airship Club).
We do believe that we have just one life to live and we have to taste all the delights of life as much as possible. A hot air balloon flight over Cappadocia region is a unique experience of our lives and the Royal balloon is ready to give an unforgettable experience to distinguished and special passengers with the Royal standards.
Availability: In stockOut of stock

Availability: In stockOut of stock