Cappadocia Goreme Balloons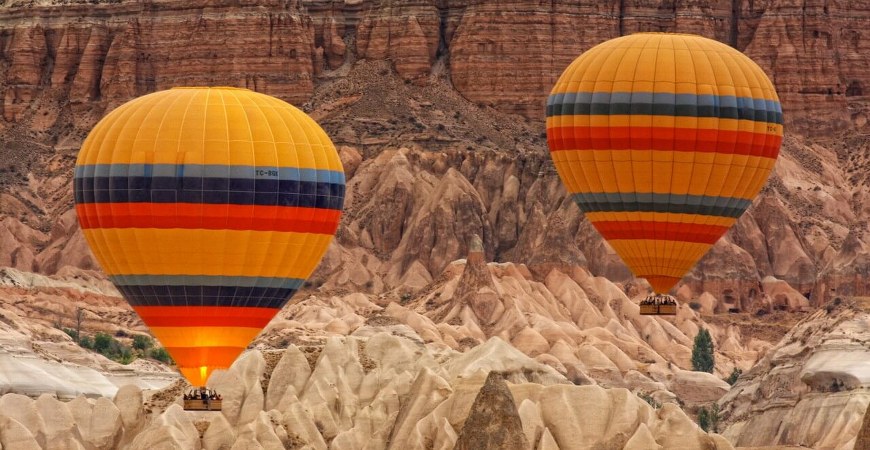 Goreme Balloons was founded in 1997 to operate hot air balloon flights within the region of Cappadocia. Since 2001, Goreme Balloons has run its balloon operations with the cooperation of the Turkish aeronautical Association. within the same year, it obtained a commercial traveler Carriage License from the Ministry of Transportation (no. 2001HT-7).
In addition, our exceptional well-trained ground-service crew backs up our professional pilots.
We have extremely experienced and licensed pilots from all around the world who speak English, Portuguese, Spanish, German and French.
Goreme Balloons owns eleven large commercial balloons with the capability of ten to twenty-one passengers at any one time and one smaller craft for four passengers. we store all our equipment and balloons at our own balloon port. The port is unique in Turkey and Europe and approved by the Turkish Civil Aviation Authorities. It includes open and closed storage areas for balloons, a maintenance unit and a ten-ton fuel tank with fast refueling system. an additional service we provide for foreign balloonists coming to Cappadocia is the use of our balloon port.
Since 1997, our business has grown rapidly year-by-year, enjoying a lot of acclaim from tourists and balloonists combined. In 2008, 36,000 passengers flew with us (11,000 in 2004). This has earned us the distinction of being the biggest growing balloon company in Turkey and Europe and one of the foremost well–known balloon companies within the world. This, in turn, has brought increased worldwide recognition to the gorgeous region of Cappadocia and to the sport of hot air flight.
Flight Details
You will be picked from your hotel at the time that was previously arranged. You will have an open buffet Turkish style breakfast at our Goreme Balloons flight centre.  After the breakfast, our staff will transfer you from our flight center to landing area. A little before sunrise our pilots will check on the weather and the appropriate landing area for balloon flight.
The day is dawning, balloons are inflating, while the crew inflates the hot air balloons you can take pictures the marvelous view of hot air balloons and Cappadocia. After the inflation finished, you welcome to balloons. Now, you are going up and up… Hot air balloon flight begins. Here you are… You are flying…
We go where the wind takes us. The sky is layered with air currents, so the pilot heats the air inside the balloon with the burner to rise into currents with different directions.
There is a marvelous view of Cappadocia from above. You can take pictures and our crew will be happy to take pictures of you in the balloon. So, bring your camera and lots of films.
Your balloon flight time will be approximately 1 hour. We are welcome to land in the many open fields in the area we fly over. Your pilot will begin the gentle descent when he finds an appropriate landing site where we are met by our experienced ground crew. After packing up the balloon, while you are toasting champagne, we will give your balloon flight certificates. Then you will be transferred from our pick-up points. The whole experience lasts 3 to 4 hours, so you will have the rest of the day to enjoy the many attractions of the Cappadocia region.
Availability: In stockOut of stock

Availability: In stockOut of stock

Availability: In stockOut of stock