Cappadocia Saray Balloons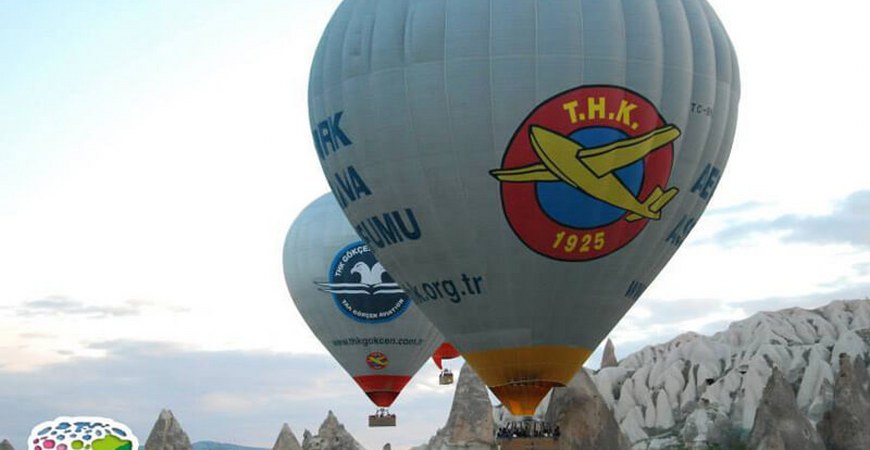 Turkish Aeronautical Association (Türk Hava Kurumu) is a non-profit organization with an aim of increasing public awareness and participation in aviation related activities and the national body governing air sports in Turkey. The association was founded with the name Turk Tayyare Cemiyeti (Turkish Aeroplane Society) by the directive of Mustafa Kemal Ataturk on February 16, 1925.
THK is a member of Federation Aeronautique Internationale (FAI) since 1929 and has been an active participant in international air sports events and championships, including the organization of the 1st World Air Games hosted by THK in 1997.
Saray Balloons is only the official representative of THK in Cappadocia region. We are in service partnership on hot air ballooning. We have 5 pilots, 5 operation members, 20 ground crew, 5 drivers for transportation services. We are a family of 35 people in the company in Cappadocia. Saray Balloons was established by a team of expert professionals, our team masters have been personally involved in the aviation sector since 1992.
Our experienced members and the young dynamic team have a tightly knit working and organizational relationship to eliminate any potential, irredeemable and highly disappointing mistakes in hot air ballooning planning. We are very pleased to offer services with our zero mistakes and quality management principle aiming 100% sustained guest satisfaction.
As responsible tourism professionals who have the privilege to live and work in Cappadocia region, a UNESCO World Heritage site, we believe we have a duty to protect this amazing and unique area which is "not ours, but ours to look after".
All our balloons are fuelled exclusively with propane gas. Propane is an approved, alternative clean fuel listed in the 1990 Clean Air Act and the National Energy Policy Act of 1992. Propane is one of the cleanest burning of all alternative fuels, and it is also non-toxic, and therefore, not harmful to soil or water.
We use modern and well-maintained vehicles with less fuel consumption while providing comfort and safety for our guests.
We support community development projects. Saray Balloons employs local staff and ground crew, and we strive to reduce our impact on the community and the environment.
Availability: In stockOut of stock

Availability: In stockOut of stock

Availability: In stockOut of stock